Protecting Critical Infrastructure
RANCHO CUCAMONGA, CALIF. (PRWEB) OCTOBER 04, 2018
TRL Systems, a leading life safety and security integrator, will now offer Logipix, a worldwide provider of high-performance IP-based, industrial video surveillance solutions. Based in Budapest, Logipix is best known for its engineering of innovative high-megapixel IP video cameras and image processing technology. TRL's market offerings will include the full suite of Logipix end-to-end solutions for wide-area public surveillance of stadiums, airports, seaports and critical infrastructure. The class-leading Logipix ONE 200-megapixel 180-degree panorama camera, leads the Logipix line of IP video solutions built for high availability performance under extreme weather conditions, and provides unmatched image clarity at long-range.
"We continue to selectively extend our distribution reach in the US market with carefully-vetted partners," said Dr. Peter Besenyei, CEO of Logipix. "Logipix thrives on solving complex surveillance problems, and we expect to uncover several intriguing challenges working closely with the TRL team. Their customer-centered approach and range of capability is a perfect fit for us."
"We strive to offer our customers the best proven technology available for a given platform," said Gary Chavarria, General Manager, TRL Systems. "We're excited to be working with innovative partners like Logipix,and expect some of our more complex requirements will be well-matched to a Logipix solution."
About TRL
TRL Systems is comprised of teams of highly trained specialists in life safety and security strategic planning and implementation including installation, service and IT integration. TRL serves multiple industry segments including commercial, healthcare, education, industrial, hospitality, government and transportation. http://trlsystems.com
About Logipix
Logipix is a 22-year-old engineering and manufacturing firm that provides IP-based, high-end video security surveillance solutions. Its purpose-built systems support large installations that adapt to customer needs while controlling costs. http://logipix.com.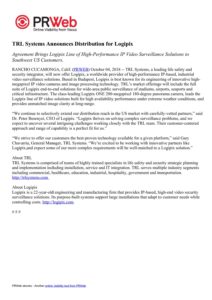 For more information, please contact Wave Representatives or 858.252.2880