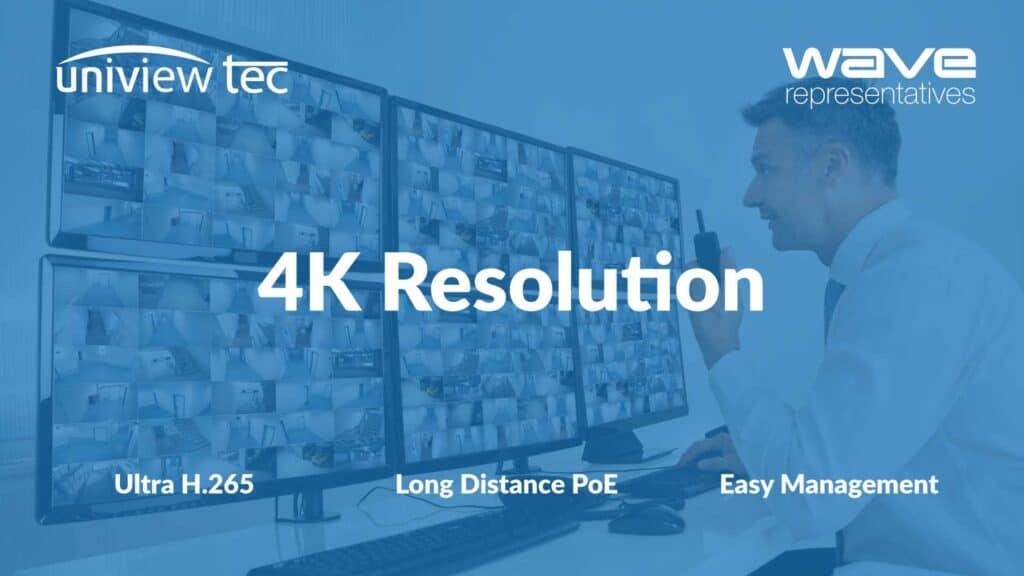 Uniview – Video Surveillance Solutions
It's never been easier to implement an ultra-high definition video surveillance solution than now. The cost has dropped dramatically for 4K resolution video surveillance, but it's crucial to select a quality manufacturer.
From houses of worship, retail, small business, large commercial, education to residential, customers trust the Uniview brand to address their requirements. Systems Integrators are finding a partnership with Wave Representatives and Unview as the answer to solving the majority of their customer requirements. Uniview addresses what customers are searching for; ease of use, reliability, and cost-effectiveness.
Uniview does not sell directly to end-user clients but instead partners with established channel partners to evaluate, quote, install, and support their clients.
With the introduction of 4K (8 megapixels) resolution combined with H.265 high compression, customers can expect a much clearer and flexible system using Uniview.
In addition to clearer, usable video footage, clients will notice a better out of the box experience with valuable built-in analytics that provide essential insights and alerting during suspicious activity. Uniview delivers all of this functionality at no additional charge, whereas other solutions focus on selling expensive add-ons along with yearly renewals.
If you're tired of low-quality camera images, complex video management software, and expensive support renewals, move to Uniview.
---
Connect with Wave Representative via chat for more information or call us at 858-252-2880 during normal business hours.