Intelligent Hotel Video Security
Wave Representatives has a tremendous amount of experience supporting systems integrators with hotel installations and over the years we have found the following areas to be key in a successful implementation.
Download our TechSmart guide to successfully implementing Intelligent Hotel Video Security.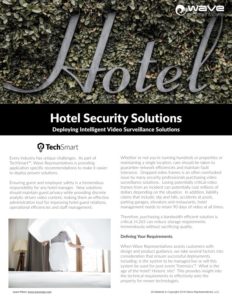 Every industry has unique challenges.
As part of TechSmart, Wave Representatives is providing application specific recommendations to make it easier to deploy proven solutions.
For more information, please contact Wave Representatives or 858.252.2880