Mobile Surveillance Systems
Wave Representatives technology partnerships provide innovative and effective products. One product that has gained popularity is the Mobile Surveillance Systems (MSS) from KBC Networks. This unit provides the speed and flexibility of temporary mobile video surveillance for security professionals.
Download the MSS data sheet for more information.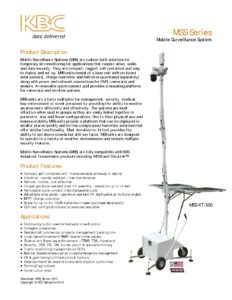 Every industry has unique challenges.
As part of TechSmart, Wave Representatives is providing application specific recommendations to make it easier to deploy proven solutions.
For more information, please contact Wave Representatives or 858.252.2880